You will have an option of switching your filter results between surebets and value bets in one click.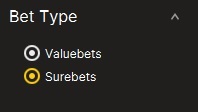 In the same frame, just below, you'll see a sorting menu helping you to sort the results by the percentage of profitability, by age, start of the event, or by the width of the middle: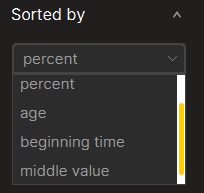 You will also have the ability to enable/ disable auto update of the filter results, set up text and / or sound notifications for all new surebets / value bets, and set the data grouping by event.
Additionally, on the user panel, you will be able to set the number of surebets to be displayed in the search results (10, 20, 30).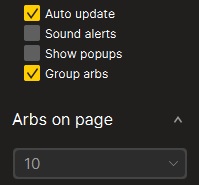 Just below the aforementioned settings, you will see a list of multifilters with quick access to filter setting up and editing.